Arts for All Ages
Fine and performing arts instruction at Pinewood takes place in a student-centered environment. Students explore the arts in small class settings that offer individualized attention. Pinewood's arts faculty members, who graduated from leading university arts programs, have years of experience in their fields as artists and as instructors.
Curriculum, in addition to class size and faculty, sets apart the Pinewood arts experience. Students will develop into artists using the top curriculum in the field, for example, Game Plan (Lower School Music), the Austin Classical Guitar Society model, and Teaching for Artistic Behaviors (High School Visual Art).
Faculty members go beyond teaching facts - instead, they teach processes and ways of thinking to create autonomous artists. Music Technology students write and record their own songs on campus. Students in choirs and instrumental ensembles learn how to read music independently. Beginning in Lower School, theatre students are taught skills that are then put into practice in production. Student artists of all levels display their work at art shows throughout the school year.
Arts Highlights
Average class size: 12 students, with class sizes ranging between three and 20 students
Pinewood arts graduates have been accepted at some of the nation's top collegiate arts programs, including NYU Tisch (Musical Theatre), the University of North Carolina at Greensboro (Opera), and SCAD (Fashion Design)
Many students who opt to major in other fields continue their art studies in college, where they place in the top ensembles
What's New in Fine & Performing Arts
Quarter 2: 2020-2021
December 07, 2020
Lower School Music: Virginia Cunningham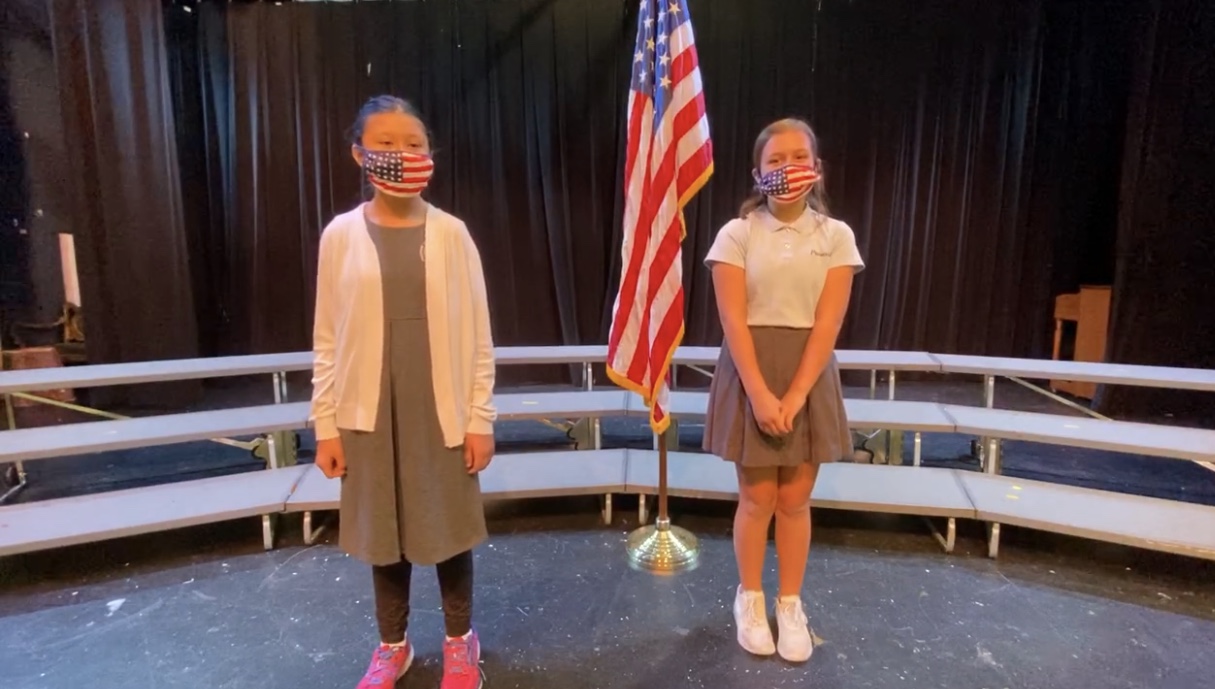 It has been a fun and busy start to the second quarter in Lower School Music. All grades continue to work on our Game Plan music curriculum. PK3 and PK4 are working on steady beat, movements to music and using their singing voices. K5 has been singing, playing, moving and listening to music and expanding their use of instruments. Grade 1 has been exploring imitation, the use of barred instruments, getting to know the concept of timbre, and working on vocal singing techniques. Grade 2 is working on expanding their repertoire of songs, moving and listening to music, visualizing, and speaking rhythm. Grade 3 is continuing to master their ukulele skills while also expanding their musical literacy. Grades 4 and 5 completed their recording for the Veterans Day Salute, which was rolled out as a virtual presentation. All grades are starting to prepare for our virtual Holiday Extravaganza in December.
---
Upper School Music: Jonah Klixbull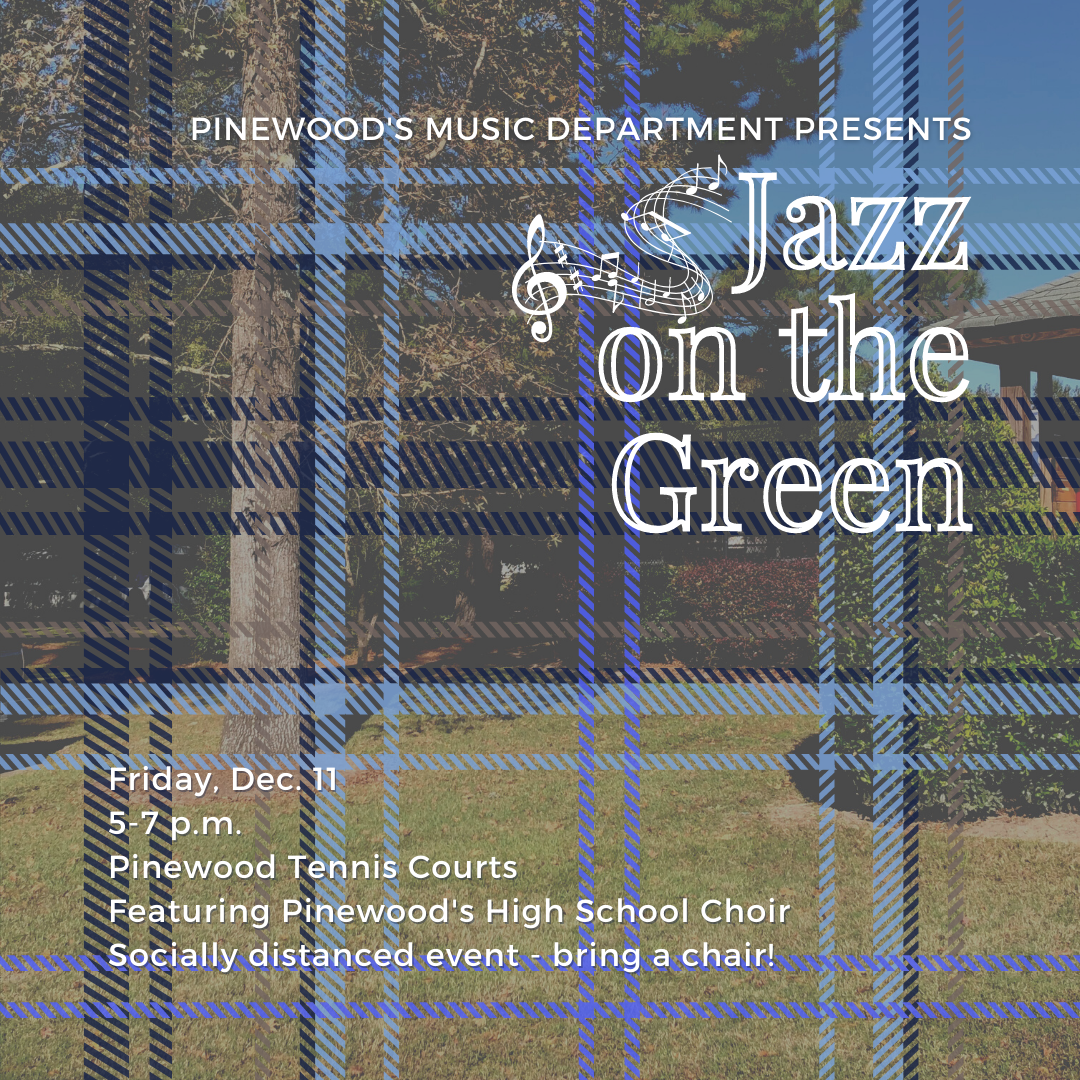 Pinewood's High School Choir will host Jazz on the Green on December 11 at 5 p.m. In order to make this performance as safe as possible, the concert will take place outdoors. The students will all have their own microphones. A local jazz pianist and drummer will perform and accompany the choir, and the Music Technology class will also perform. All are welcome to attend this free event. Guests are encouraged to bring a chair, be socially distant, and wear a mask.
Also, one High School student has auditioned for All-State Choir and two students will audition for All-State Guitar.
The Middle and High School guitar students are preparing for a virtual guitar performance in December.
---
Music Technology: Herve Moreau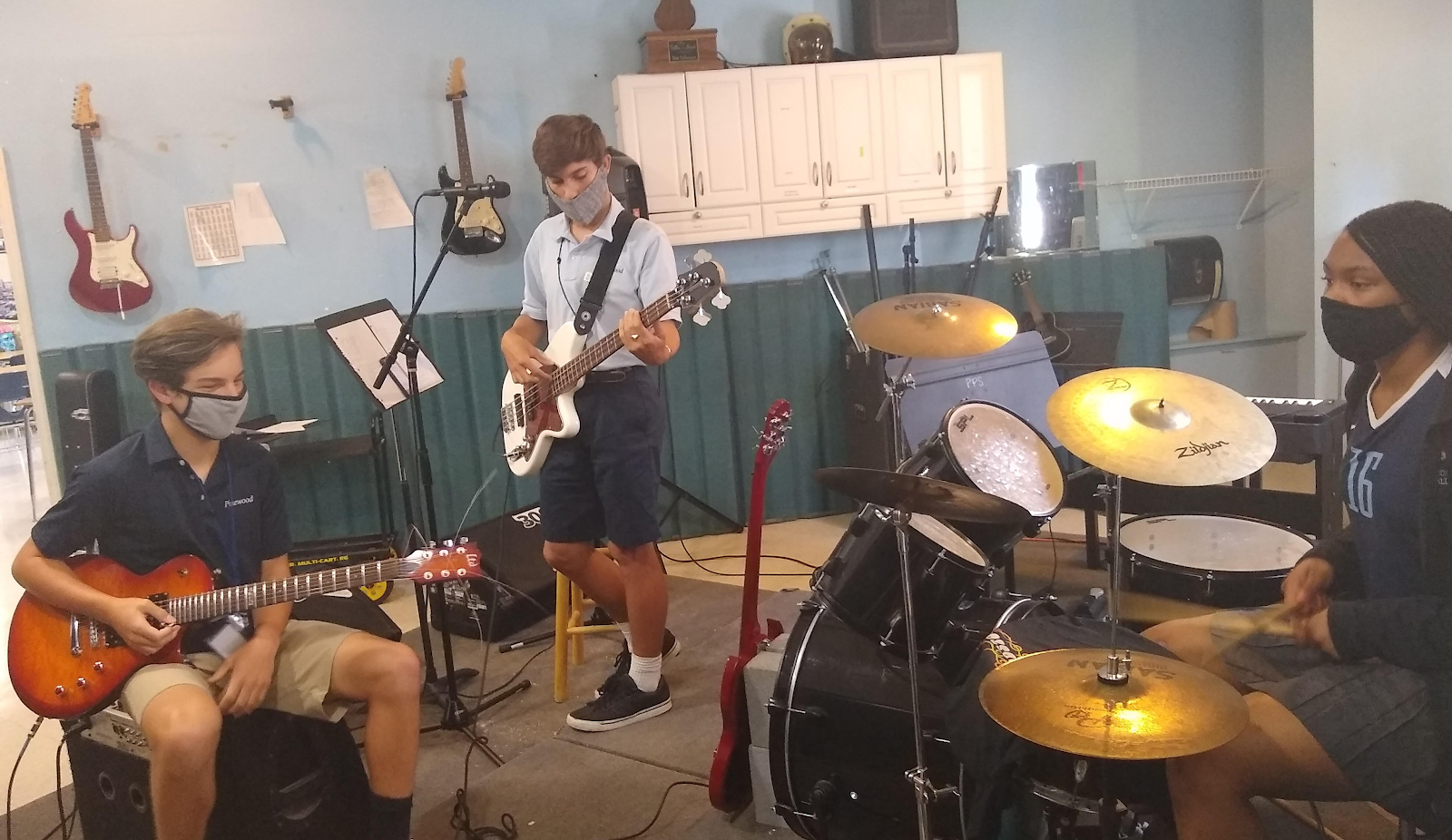 Music Technology students are currently brainstorming, trying different sounds, chord progressions, and lyrics to write the perfect chorus to their song!
---
Lower School Drama: Stephanie Klixbull
The Lower School Drama Club has been meeting after school to rehearse for a spectacular show to be presented this Spring 2021.
---
Middle School Theatre: Amanda Ehrlich
The Middle School Theatre Tech and Design classes have continued learning about different ways that light and sound can impact the mood and atmosphere of a show. They are currently working on independent research projects on the designer of their choice.
The Grade 6 rotation class recently designed the lighting for the Lower School Veterans Day show!
---
High School Theatre: Amanda Ehrlich
The High School Theatre Tech and Design students have been designing the stage for our upcoming one-act play, "Little Women."
The Musical Theatre and Film Study class has been very busy! Students recently completed two commercials for the Lower School reading incentive program. They are currently working on two new film pieces that we will share with the Pinewood community when they are finished.
The High School Actor's Workshop Class has been working very hard on their upcoming show, "Little Women." This performance will be filmed and shown virtually.
---
Panther Paws (Lower School) Dance Team: Amanda Ehrlich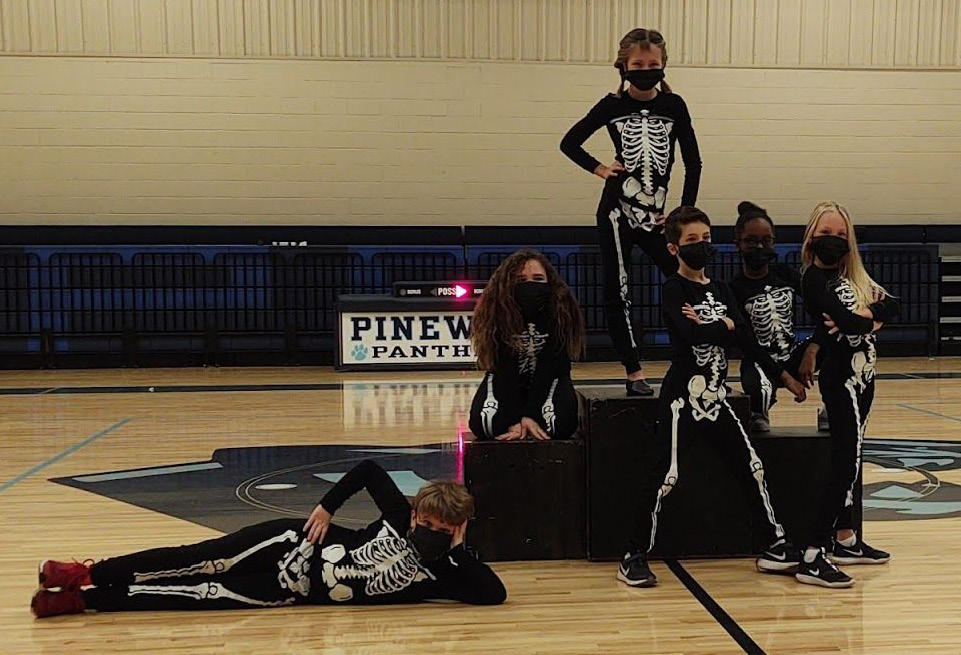 Panther Paws, the Lower School dance team, has started meeting and already begun performing! They recently filmed a performance for the virtual Ghost Walk event hosted by the Junior Service League of Summerville.
They also performed their dance at the recent High School Panther Populi meeting!
---
Lower School Visual Art: Amber Reed
The Lower School Art classes have been busy creating masterpieces! Take a look:
PK3: Clay Pumpkin, Snowman Prints
PK4: Shape House Collage, Owl Babies, Colorful Pumpkins
K5: Matisse Cutouts, Klee Portraits, Starlight Pumpkins
1: Spooky Starry Nights, Dali Birds, Autumn Fox
2: Fall Leaves, Value Pumpkins, Harper Cardinals
3: Fall Tree Collage, Northern Lights
4: Winter Mountain Landscapes, O'Keeffe Flowers
5: Winter Birch Trees, Weaving
6: 1-Point Perspective, Beyond the Border, Self Portraits
Two of our Lower School art students, Kendyl White and Dylan Young, were chosen to have their art displayed in the new Public Works Art Center! Their creativity and hard work show in their colorful masterpieces! Be sure to congratulate them!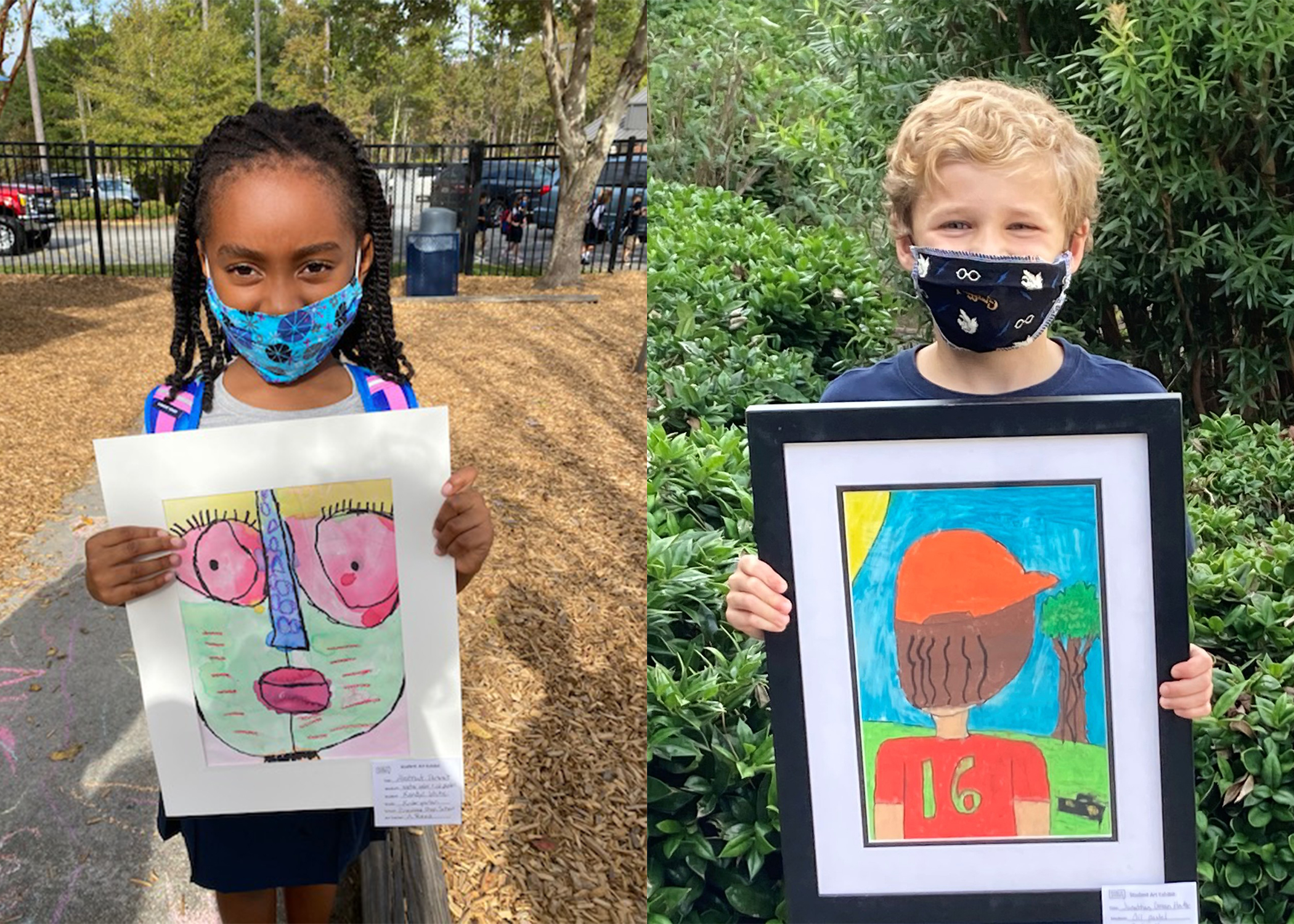 ---
Upper School Visual Art: Victoria Strang
Upper School Art Students have gotten off to a great start this year! Students are creating beautiful pieces, based upon photographs they have taken and materials experimented with in class. We are looking forward to a wonderful rest of the semester, and we hope to plan a show for the Spring!
Congratulations are in order for AP Art Students Lauren DaRe and Riley Cox on being chosen to represent Pinewood at the Public Works Art Center Student Art Exhibit! Their pieces, along with artwork by students from other schools, will be on display until December 31.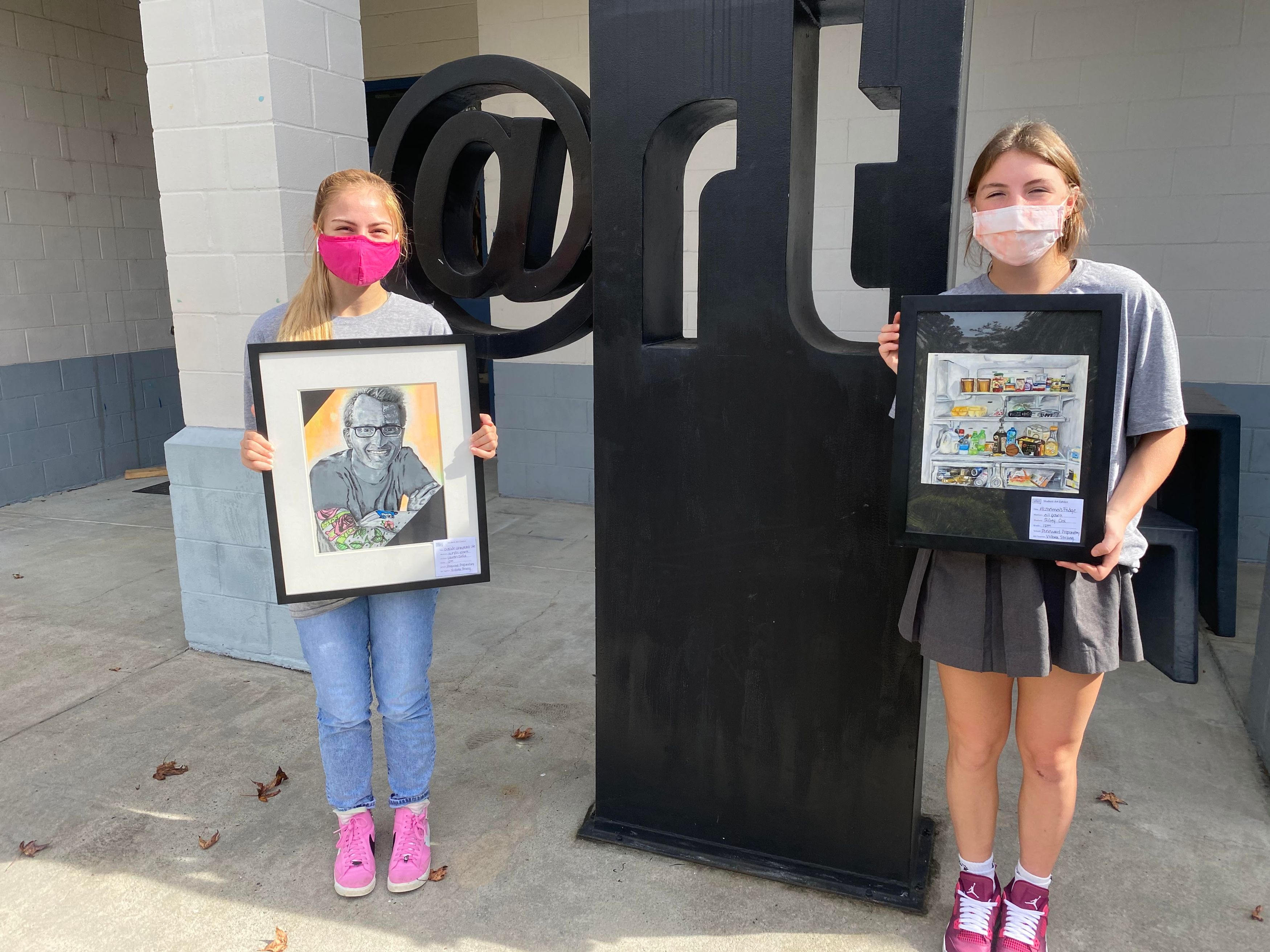 Arts Alumni Testimonials
"Going into college as a STEM major, I wasn't sure how much time I would be able to dedicate to extracurricular activities. I knew I wanted to do well in my classes and I just thought my time would be spent in the library or with study groups. It wasn't very long until I realized that I was going to need an escape from my studies every so often. I decided to audition for CU Singers, our mixed-voice choral group, just a few days before my first day of class. On the first day, I wasn't sure what to expect. I thought a group of college choir kids would all be performing arts majors and so much more experienced than me. I found that I was very wrong on the first day of class. Close to 80% of the CU Singers are not in a fine arts-related field of study and about 50% are all in a STEM-related major. Something I've learned over the past year is this: Engineering fields are difficult, you will put in long hours in the library, in tutoring, and in the classroom. But nothing compares to that 3-4 hours a week that you're able to dedicate yourself to something that you loved in your youth, and still love today. I truly believe I have met some of my lifelong friends by participating in the arts. We all share a common love for the arts and have grown a very strong bond from this. You don't have to decide how you're planning on spending your whole college career from the first day of your freshman year. But one thing is for sure; you should always continue to participate in activities that you love because when you look back on your time at college, those will be the good times you remember."
- Anna Rook '18, alumna of the Pinewood arts program; current student at Clemson University