Posts Tagged "high school"
June 10, 2020
The Jazzy Junior/Super Senior program has been an integral part of student life at Pinewood Preparatory School for nearly two decades.
Beyond the catchy name lies an opportunity for mentoring and growth in Pinewood's youngest and oldest students. Each junior and senior student is paired with a "little Panther" in the School's Early Childhood program (Pre-K3 through Grade 1). These students spend time together at quarterly events, and the High Schoolers are encouraged to schedule visits with their younger friends at specified times during the school day. Over the years, many students have established bonds that extend beyond the students' time at Pinewood.
"We were excited to be entering an Early Childhood program that not only had a reputation for nurturing a child's mind but also focused on their hearts," said Lower School parent Chelcie Eastman. During their scheduled meet-ups, the younger and older students read, create cards for local children's hospital patients, and play together.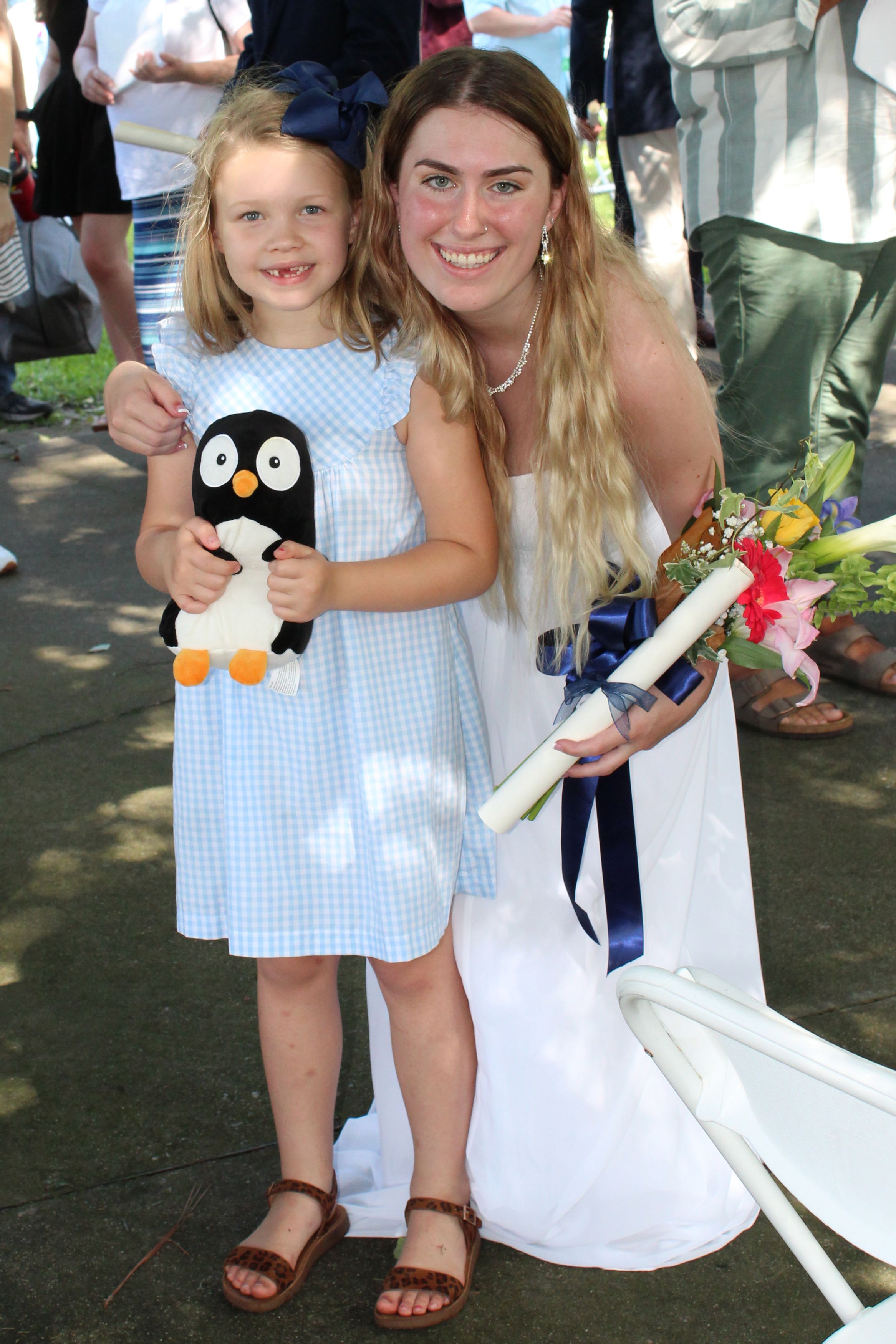 Eastman continued, "Libba was paired with a High School student named Summer that helped her transition from a baby to a little girl. Summer, her now Super Senior, has loved my child, given her special attention, held her hand when she was nervous and cheered the loudest when she accomplished something new! They had fun together and grew to love one another! We love her too, and frequently she comes to our home and babysits both of our girls."
In addition to mentorship between students, the Jazzy Junior/Super Senior relationships often extend to the students' families. "Another positive for the parents is a connection between Lower and High School families - something that is rarely done outside of Pinewood. It is such good motivation for younger students to see a volleyball game or cheer on the homecoming court! It's a great way to meet new people and to see examples of how Pinewood helps children grow from the smallest three-year-old to the graduating 18-year-old!" said Eastman.
The responsibility of becoming a role model is met with much anticipation by Pinewood's High School students, according to Head of High School Babette Hamilton. "I cannot begin to express the excitement of our rising juniors when at the end of their sophomore year they realize that they will soon become Jazzy Juniors. The energy and laughter in each of the classrooms during all of our events is absolutely heartwarming. It is an amazing opportunity for our High School students to be able to show kindness, caring, and patience, during the scheduled events and the times that they coordinate with teachers to visit. I love when the seniors and juniors walk by the playground and their little Panthers start yelling their names and running over to talk to them. It is magical!"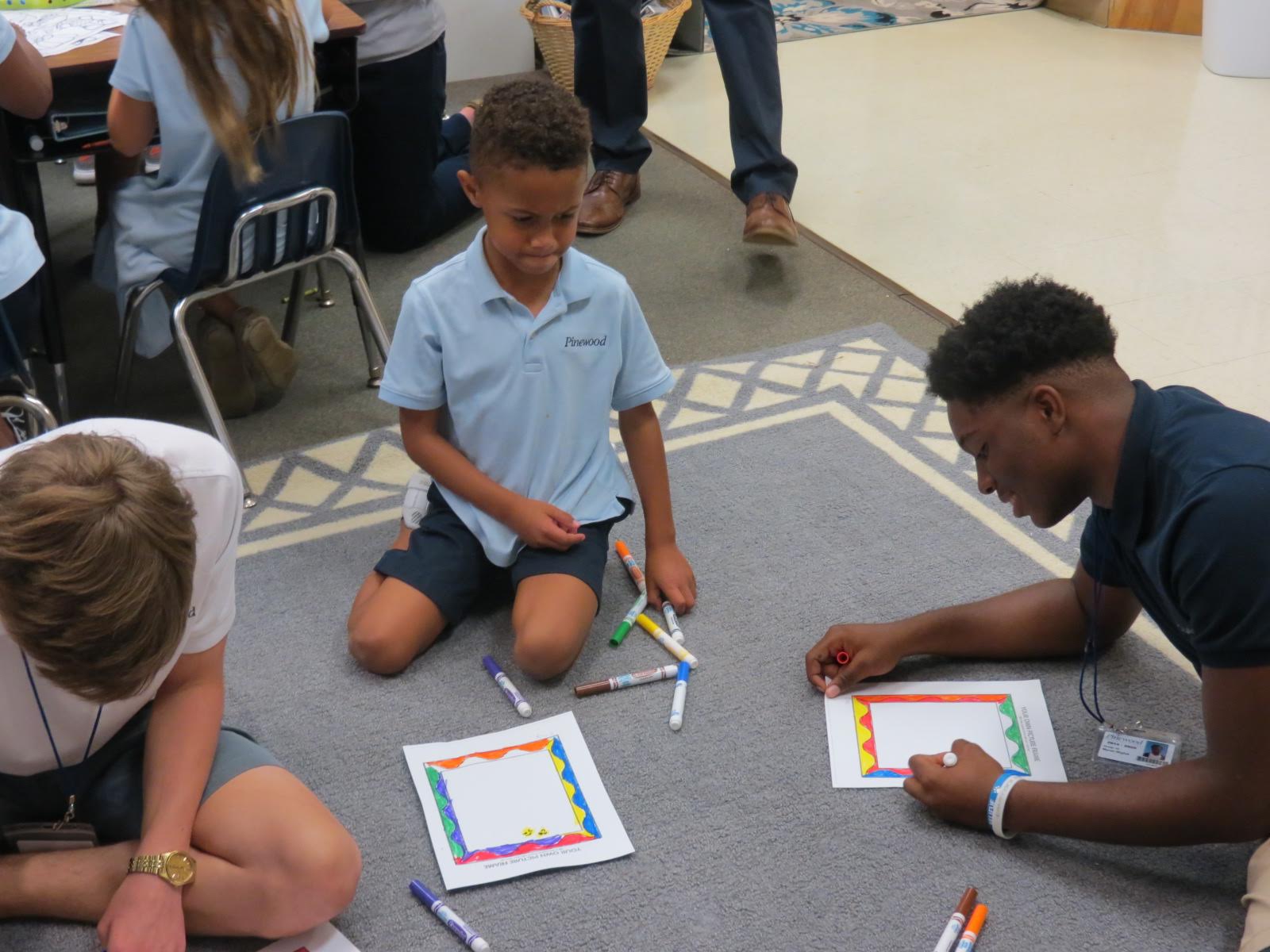 Head of Lower School Rhett Frampton agreed, "Yes, it is magical! The little Panthers love being called by name and receiving high fives when their Jazzy Juniors and Super Seniors see them outside of the classrooms; and the Jazzy Juniors/Super Seniors love, too, being cheered on by their little Panthers at our many events. The relationships this program creates between the youngest and oldest Pinewood students uniquely bonds our Lower and Upper School."
When Pinewood shifted to virtual learning in Spring 2020 due to the COVID-19 pandemic, the juniors and seniors collaborated on a video farewell to their little Panthers. Click here to view the Jazzy Junior video and the Super Senior video.